The Importance of staying hydrated
It is particularly important to get the right amount of water before, during and after exercise but also if you are just sitting at your desk.
Water regulates your body's temperature and lubricates your joints. It also helps transport nutrients to give you energy and keep you healthy. If you're not hydrated your body can't perform at its highest level, you may experience fatigue, muscle cramps, and dizziness.
When clients tell me that they are struggling with the recommended water intake I often suggest taking a water bottle and to draw hourly markers on it. That way you can easily keep track of how much water you drank.
If you get tired of plain water, mix in some berries, citrus fruits or cucumber to keep it interesting. Also, herbs can be very flavoursome, rosemary, for example, is known to help boost memory when feeling tired.
You have probably heard that you're supposed to replenish your electrolytes after a killer sweat session, but what are electrolytes, exactly? And why does our body need them?
What are Electrolytes?
A healthy diet provides the electrolytes that your body needs to function properly. They are electrically charged minerals that help your muscles contract and your nerves to transmit impulses. Electrolytes help your body maintain the proper fluid balance while your kidneys work hard to keep electrolytes at the right level.
Calcium, potassium, magnesium, phosphorus, sodium and chloride are the most common electrolytes. You lose electrolytes when you sweat, so they need replenishment during and after intense exercise or very warm weather.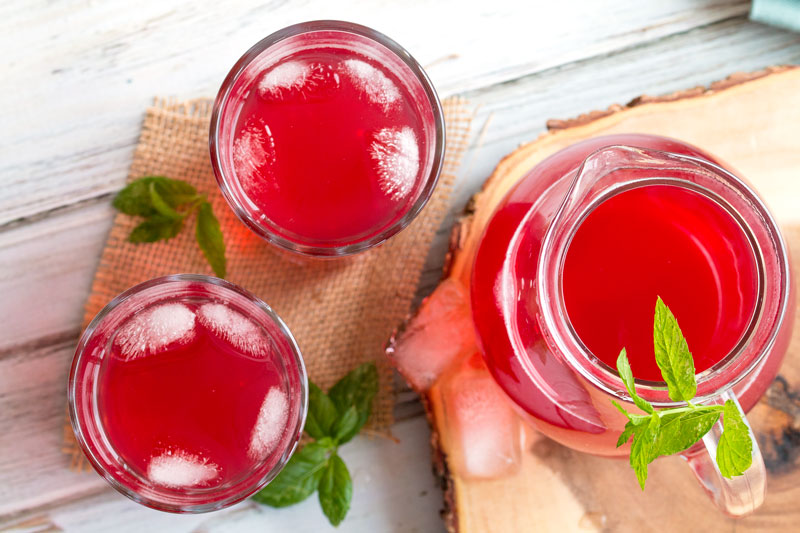 Natural Electrolyte Sources
Calcium
Calcium is a mineral that is necessary for life. In addition to building bones and keeping them healthy, calcium enables our blood to clot, our muscles to contract, and our heart to beat. About 99% of the calcium in our bodies is in our bones and teeth. Many foods contain calcium, but the richest sources include yoghurt, collard greens, black-eyed peas and milk.
Potassium
Potassium is very important in the human body. Along with sodium, it regulates the water balance and the acid-base balance in the blood and tissues.
Good sources include red meat, chicken and fish. Vegetables such as broccoli, winter squash, tomatoes, lima beans and peas are also rich in potassium. Fruits high in calcium include bananas, kiwis, cantaloupe, apricots and citrus fruits.
Magnesium
Magnesium helps to maintain normal nerve and muscle function, supports a healthy immune system, keeps the heartbeat steady, and helps bones remain strong. It also helps regulate blood glucose levels and aid in the production of energy and protein.
Good sources include nuts, whole grains, green leafy vegetables, blackstrap molasses and pumpkin and squash seeds
Phosphorus
The main function of phosphorus is in the formation of bones and teeth. It plays an important role in how the body uses carbohydrates and fats. It is also needed for the body to make protein for the growth, maintenance, and repair of cells and tissues
Fruits and vegetables contain very little phosphorous. Meats and milk products provide the primary sources of phosphorus in your diet.
Sodium and Chloride
While too much sodium can cause adverse health effects, a small amount of sodium is critical to your health. Sodium helps regulate blood volume and blood pressure. Foods such as milk, beets and celery contain naturally occurring sodium. However, sodium chloride, also known as table salt, is the most common form of sodium. While chloride is found in table salt, it is found naturally in foods such as seaweed, tomatoes, celery, and olives.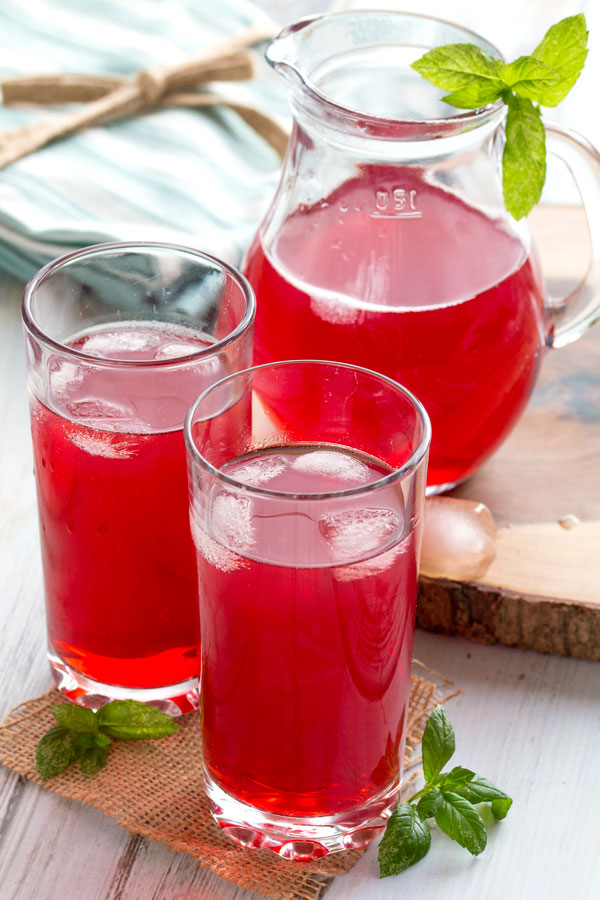 Which electrolytes I like to use in my natural electrolyte drink
While this is totally optional and not a necessity, I decided to include it because I get asked quite regularly which electrolyte brand I recommend.
If I opt for using a premade product I usually go for pure Elete Electrolyte Add-in. Elete is designed without sugars, flavourings, or anything artificial.
Elete can easily be added to any beverage or food. It makes functional electrolyte water that tastes like water.  At full concentration, Elete Electrolyte Add-in tastes very salty, but when mixed with purified water or other beverage as directed, it adds little or no noticeable flavour.
I am in no way affiliated with Elete, I just believe that it is a good product and far superior to any additive-laden sports drink that comes in neon bright colours. If these drinks claim to be low in sugar you can bet that they are bursting with artificial sweeteners and colourings instead.
Simply follow my recipe below to make your own Sports Drink it is so quick and easy. If you want to learn more about workout nutrition check out my recent article on The Importance Of Workout Nutrition & What To Eat And When.
Your turn
What do you use to rehydrate after a killer sweat session? Are you going to make a homemade Electrolyte Drink? Let me know in the comments.
For more updates follow me on Facebook, Twitter, Instagram, Pinterest or subscribe to my YouTube channel!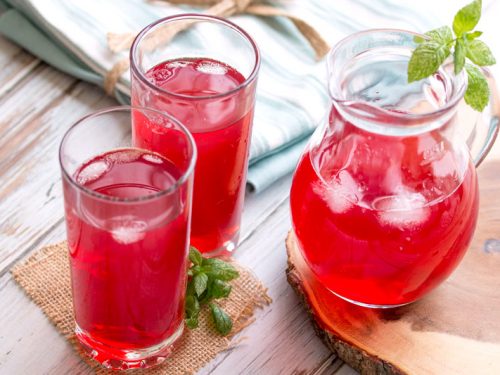 Print Recipe
Homemade Electrolyte Drink
Time to ditch the additive-laden Sports Drinks in favour of a Homemade Electrolyte Drink. It isn't just easy but also much healthier and cheaper, try it!
Ingredients
3

cups

filtered water

2

tea bags

choose a flavour you like – fruity ones are good, rooibos also works well

5

teaspoons

glucose powder

5

teaspoons

coconut blossom sugar

1

Pinch

salt

or Elete electrolytes (optional)
Instructions
Bring the water to a boil, mix in the glucose powder, palm sugar and salt or electrolytes and stir until it's dissolved.

Add the tea bags and let steep according to the directions on the package.

Allow to cool before consumption.
Nutrition
Calories:
47
kcal
|
Carbohydrates:
12
g
|
Sodium:
38
mg
|
Sugar:
11
g
|
Calcium:
8
mg
Pin it for later!