Christmas day is just over and like many other families you are probably sitting on lots of leftovers. We all know that hardly any vegetable polarises as much as Brussels Sprouts, you either love them or hate them.
Nonetheless, they are a staple of most Irish or British Christmas dinners. Personally, I love them and here is my solution for those leftover Brussels sprouts, Brussels sprouts and chestnut quiche to the rescue!
It is an easy and wonderful dish that can be served either hot or cold. Brussels sprouts are a nutritious winter vegetable and are delicious anytime, not just after Christmas day.
Benefits of Brussels Sprouts
They are a great source of folic acid, potassium, fibre and vitamin C.
Vitamin C is important to help wounds heal, protect cells and keep the immune system working.
However, vitamin C is a water-soluble vitamin that will leach into the cooking water if you cook sprouts for too long, so cook them quickly in boiling water for no more than minutes.
Even better than cooking is steaming them, which is my prefered method.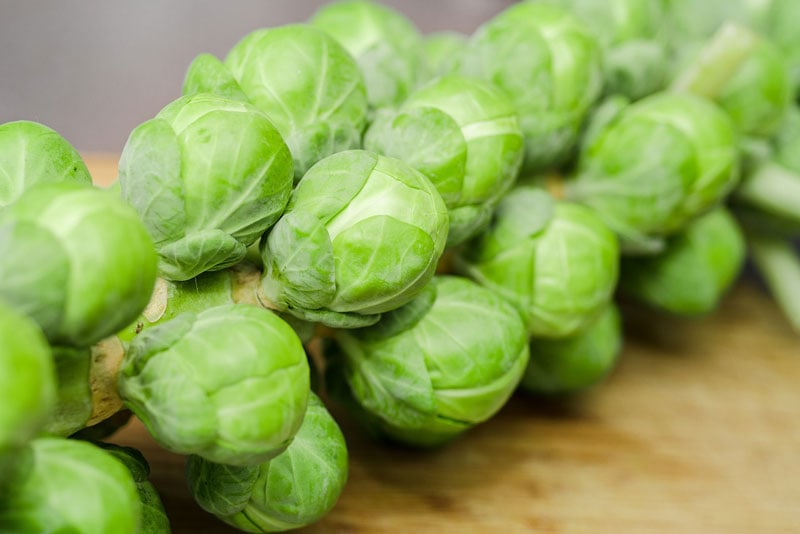 How to make quiche pastry
It is as simple as mixing flour, butter, water and salt together but the secret is that the dough needs to be chilled.
It's important that the quiche crust is cold when filled and baked. The cold dough should not lose its shape when pressed. When the butter within the dough gets cold it helps keep the thin layers of flour/water separated which is exactly what's needed to achieve a beautiful flaky quiche crust!
If you have always been struggling with soggy pie or quiche crusts you might want to blind bake them. I am always too busy, so I usually skip that step. It sometimes might be slightly softer in the middle but they have never been that soft that they wouldn't have held together.
But if you are a perfectionist you might want to blind bake the pastry. Heat the oven to  425 °F/220 °C. Cut a large piece of baking parchment, then scrunch into a ball. Open it out and line the chilled pastry case with it. Now fill it with dried beans, lentils or rice, they are just being used as a weight to prevent the pastry from puffing up. Use enough beans to press against the sides, to support the pastry wall when baking.
Bake it on a baking sheet for 15-20 mins until the sides are crisp and set. Remove from the oven and carefully lift the paper and beans out. Return the pastry to the oven and cook for another 5 mins or until the base and sides are golden and crisp.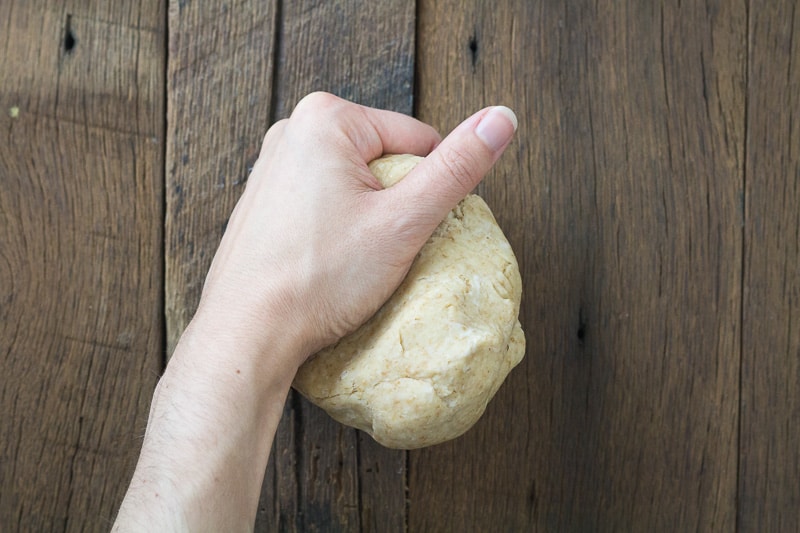 How to make the quiche filling
Chestnuts
After many attempts and burned fingertips, I have given up on roasting chestnuts myself. I simply buy them roasted and peeled from an Asian market. They are vacuum packed and don't contain any additives. You can easily crumble them up between your fingers or quickly chop them with a knife.
Brussels sprouts
Feel free to buy them in whatever form you like. If you have leftover Brussels sprouts you can simply skip the step of cooking them. As mentioned above, I prefer steaming mine over boiling them in water to preserve Vitamin C. If you use frozen Brussels sprouts just make sure to allow enough time for them to thaw completely.
Pancetta or cooked ham
Either of the two is fine, just make sure to dice them finely. I personally prefer the flavour of pancetta, if you would like to add an extra layer of flavour you can quickly brown them in a pan but it is perfectly fine to skip that step.
In case you want to turn this dish into an ovo-lacto vegetarian version you can simply omit the pancetta or replace it with smoked tofu cubes.
Egg mixture
From here on it is as simple as mixing the eggs, creme fraiche and spices together and pouring it into the pie dish and baking it for about 25 minutes. The egg mixture is the same for most quiches, so feel free to get creative with the filling.
You don't want to overbake it, bake it until it is just set and the corners start to brown. Let it cool for about 10 minutes and then serve it either hot or cold.
How long can you keep Brussels Sprouts and Chestnut Quiche?
It will last for 3-4 days in the fridge or you can freeze it for 3-4 months. Slice into 8 servings and serve it for lunch/dinner or put it in your kid's lunchboxes.
Like it? Pin it for later!
If you like tarts make sure to check out my Beetroot And Goat's Cheese Tarts as well!
Your turn
I am so excited about this recipe that I can't wait to find out what you think of it. Let me know in the comments!
For more updates follow me on Facebook, Twitter, Instagram, Pinterest or subscribe to my YouTube channel!
Like it? Pin it for later!
Print Recipe
Easy Brussels Sprouts and Chestnut Quiche
Not sure what to do with the leftover Brussels sprouts from Christmas day? Here is my delicious Brussels Sprout and Chestnut Quiche to the rescue.
Ingredients
Crust
1

cup

white spelt flour

organic

1

cup

wholemeal spelt flour

organic

1/2

stick

butter

1

teaspoon

sea salt

1/4

cup

water

cold
Filling
1 1/2

cups

chestnuts

roasted, peeled and roughly chopped

2

cups

water

1

pound

Brussels sprouts

fresh or frozen and thawed, cut in half

5

ounces

pancetta

or ham, finely diced

14

ounces

creme fraiche

4

eggs

organic

1 1/2

teaspoons

sea salt

1

teaspoon

pepper

1/2

teaspoon

nutmeg
Instructions
In a big bowl, mix all the ingredients for the crust until well combined. Shape the dough into a ball, cover it with cling film and chill it in the refrigerator while you continue with the recipe.

Add the water to a saucepan and bring it to a boil. Steam your Brussels sprouts for 10-15 minutes or until slightly soft. If you don't have a steam basket you can also quickly parboil them instead.

Meantime, preheat the oven to 425 °F/220 °C. Grease your pie dish with butter, roll out the dough on a lightly floured surface until it's about the hight of a €1 coin. Carefully transfer it to the greased baking pan. Make sure to press the dough into the dish and to pull up the sites by about an inch or a minimum of 2cm.

Place the steamed/cooked Brussels sprouts, pancetta and chestnuts on top of the crust.

In a medium-sized bowl, mix together the remaining ingredients and pour them over the filling.

Bake for about 25 minutes or until lightly browned and set. Cut into 8 slices and serve hot or cold.
Nutrition
Calories:
422
kcal
|
Carbohydrates:
43
g
|
Protein:
13
g
|
Fat:
21
g
|
Saturated Fat:
10
g
|
Cholesterol:
126
mg
|
Sodium:
616
mg
|
Potassium:
520
mg
|
Fiber:
6
g
|
Sugar:
1
g
|
Vitamin A:
900
IU
|
Vitamin C:
59.4
mg
|
Calcium:
115
mg
|
Iron:
3
mg