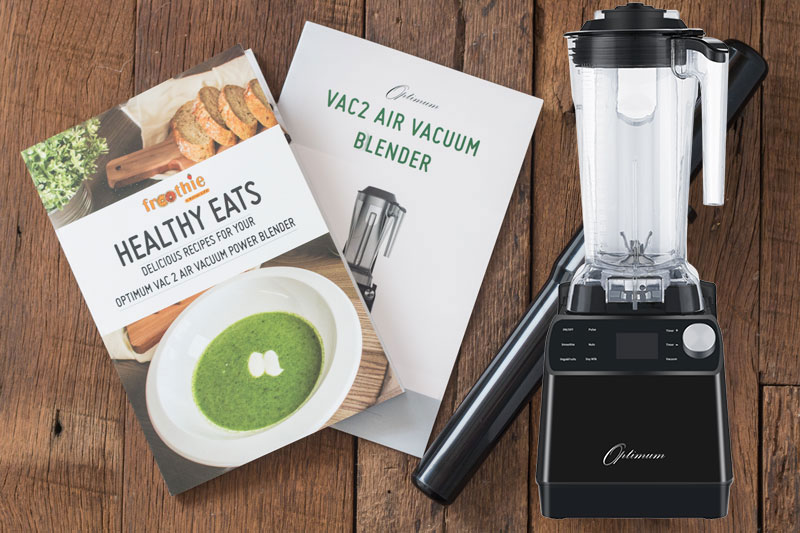 I can't tell you how excited I am to finally be able to tell you about my new Optimum Vac2 Air Vacuum Blender. A couple of weeks ago Froothie UK got in touch and offered to send me their brand new Vacuum Blender to test it. So many times I have been tempted to tell you about it but I wanted to make sure that I had tested all its functions (which there are many) before actually talking about it.
To be honest, I get a lot of requests to test new products but I often decline because they simply don't meet my expectations. I have also been spoilt by having a Vorwerk Thermomix for many years and therefore I wasn't sure if I really needed "another" blender. Nonetheless, being German and slightly OCD I started digging into the tech specifications and reviews. The strong motor (2238W) and the vacuum function in particular really sparked my interest.
Does anybody really need a vacuum function?  Probably not, but it is definitely a nice to have. So, let us dive in, I will tell you the good, the bad and the ugly.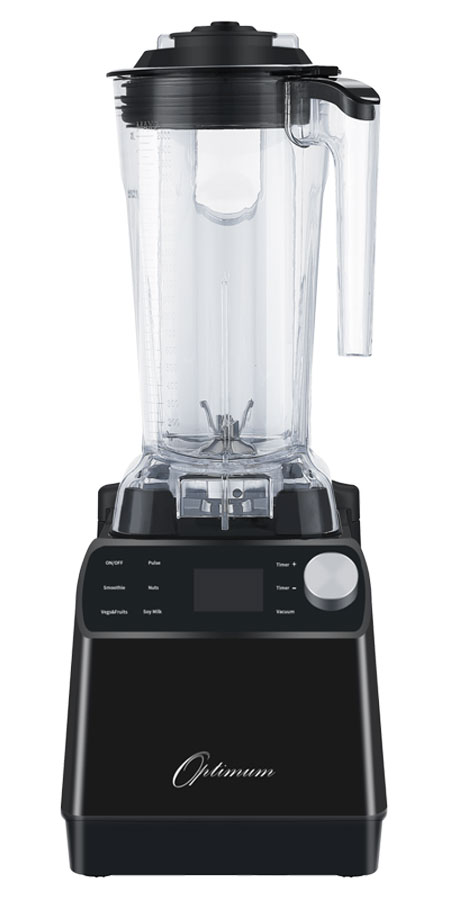 Optimum Vac2 Air Vacuum Blender Specifications
The Optimum Vac2 Air Vacuum Blender is available in three different colours, silver, black and red. I received a black one. It came in a huge box with plenty of images of things you can make with it.
Once unboxed, I was quite surprised by its size, I really like the slim design because I find that some of the other well-known blenders can look a bit bulky.
The quality seems heavy and sturdy which is definitely positive. Froothie is that confident in its quality that they offer up to 10-years warranty. This deserves a big thumbs up as it very much appeals to my ingrained German sense of security. 😉
It comes with a digital display and various presets. A manual mode is also available but I recommend sticking with the presets as much as possible. First of all, they are more convenient and they don't beep everytime you press a button.
It comes with the following presets
Vacuum
Soup
Nuts
Veg & Fruits
Smoothie
Pulse
Not all functions work with the vacuum function, its use is only recommended for the Smoothie and Veg & Fruits presets.
The huge 2-litre jug sits snug and safely on the base and doesn't require any twisting motions. The jug is made from BPA-free plastic which I initially found a bit disappointing for a food blender of that price range but apparently, it is a safety requirement for all high-speed blenders. On the other hand, it has the advantage that it is much lighter than glass.
Different from most blenders it comes with 6 instead of 4 stainless steel blades which will even crush ice effortlessly. The mix of a strong motor and sharp blades makes it a very powerful food blender.
The Food Blender Praxis Test
The timing of the delivery of my Froothie blender couldn't have been any better. I had just decided to up my vegetable intake to 10 a day, I know that sounds a lot, but with green smoothies, it's easy peasy. So, this was for sure the first thing to try on my list.
With childlike anticipation, I added my vegetables and fruits to the jug but I wasn't going to make it that easy for the blender. After all, I am testing it, no?
So I also added chia seeds and some frozen bananas to the mix.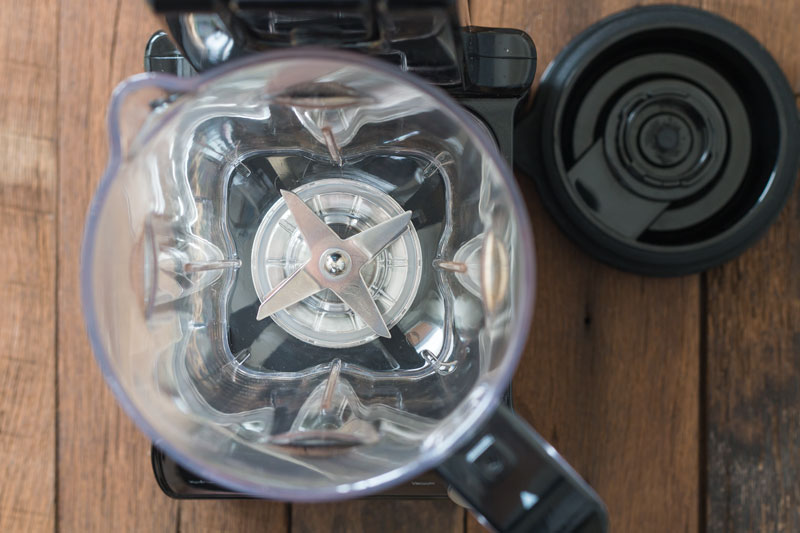 Making Smoothies  with the Vacuum Function
The jug was filled about 2/3 before I sealed the lid and put the "vacuum arm" into position. After pressing the vacuum and veg& fruits buttons the Optimum Vac2  Air Vacuum Blender jumped into action.
It took 70 seconds to remove the air from the jug, then it started blending my Energy Boosting Green Smoothie. After 2 minutes total, it was done and I was looking at the smoothest smoothie I had ever seen.
BUT, how could I tell if it had really sucked out the air? Well, it became quite obvious when I tried to take off the lid without releasing the seal first. I wasn't able to take it off without pressing the release button on top.
The smoothie contained almost no bubbles and I couldn't find any signs of the seeds, happy days.
Now it was time to test if the Optimum Vac2 Air Vacuum Blender was living up to its bold marketing claims. Froothie UK claims that blending smoothies under a vacuum will prevent oxidation and therefore preserve nutrients for longer. Vacuum blended smoothies won't separate or change colour as quickly as regular blended smoothies.
Admittingly I was very sceptical about this part and while they only make the claim for liquid that is still under vacuum I decided to take it a step further. I poured the smoothie into a glass and let it sit on the counter for 5 hours. To my very surprise, the smoothie hadn't changed colour or separated, mind blown.
Don't just take my word for it, check out the images I took myself below.
Making Nut Butters
Here I felt that the Optimum Vac2 Air Vacuum Blender was actually falling a little short. While there was no problem making nut butter from softer nuts like cashew or peanuts it simply couldn't cope with raw almonds. I tried using the tamper but still without luck.
Later I figured out that it works if you roast the almonds first or add a little coconut oil, yet I found this slightly disappointing.
Grinding nuts or making flour from almonds or oats didn't present any issues. The blender managed all these tasks effortlessly, apparently, it also kneads dough but I haven't tested this yet.
Making Soup
Well, my first soup trial went awfully wrong but admittingly it was entirely my fault. Something I wasn't aware of was that the blender doesn't have a heating element, it simply produces heat through friction. Therefore, the longer you blend the hotter it will get.
The soup preset is set to 6 minutes and from experience, I can tell you now don't exceed it.
When I made my Easy Sweet Potato and Apple Blender Soup for the first time I thought it might be a good idea to cook it for 8 minutes which unfortunately caused the soup to become too hot. The hot liquid damaged the seal and bubbled over. I have made many soups since and thanks to sticking to the preset I have never experienced any problems again.
So don't worry, it is all safe and works perfectly fine. Actually, I now even prefer making soups in the blender rather than on the stove as it is much quicker and saves a lot of washing up.
Plus, it is sooo easy to clean. You simply pour in some warm water and a drop of washing up liquid and pulse until it's clean.
If you make something sticky like nut butter you will probably still have to wash it by hand though.
Accessories
The blender comes with a tamper, spare seals, a manual and a recipe booklet. The booklet contains about 70 healthy recipes which are mostly vegan. I have tried a couple of them and discovered great new combinations like nutty mushroom soup.
I will be creating lots of blender recipes going forward but the little booklet will definitely get you started.
Froothie Optimum VAC2 Air Vacuum Blender – Offers, Support And Warranty
Optimum VAC2 warranty: Firstly, the Optimum VAC2 comes with a five-year domestic*** warranty as standard, however, you have the option to upgrade this – for a fee – to 10 years. (***For commercial use, the warranty is 12 months.)
Optimum VAC2 New Year New You special offer: The Optimum VAC2 is on special offer at the moment, with a 20% discount, which means it's currently £399 (and in my opinion, worth every penny), instead of £499.
Froothie 24/7 support: If you have any problems or queries relating to your VAC2 blender, Froothie offers 24 hours a day, seven days a week support, via a free telephone number.
Froothie finance offer: Paying several hundred pounds in one go is a big outlay for some, so Froothie offers 0% finance (with a 10% deposit) on all blenders retailing at £299+.
Froothie Guarantee: In addition, Froothie offers a 30-day money back guarantee, which essentially means you get to trial your appliance for a month, and if you decide it's not for you, you can simply return it in its original packaging (including the shipping carton), and receive a full refund, no questions asked. Froothie pays for the return shipping too.
If you fancy trying out the Optimum VAC2 Air Vacuum Blender for yourself, Froothie is offering The Healthy Tart readers free shipping and an extra £20 discount. Simply add the following code into the comments box when you checkout, or if you order by phone, relay the code to the person taking your order. The delivery charge will be refunded to your credit or debit card.
AMBASSADOR CODE 6523: FREE DELIVERY + AMB20: £20 Discount
By the way, I get a small commission – at no extra cost to you – for every sale made using my affiliate link, so if you are thinking of buying something from the Froothie website, I'd really appreciate it if you use my link. Thanks so much! Affiliate sales and advertising, BTW, fund The Healthy Tart– without them, I wouldn't be able to provide you with free content.
Like it? Pin it!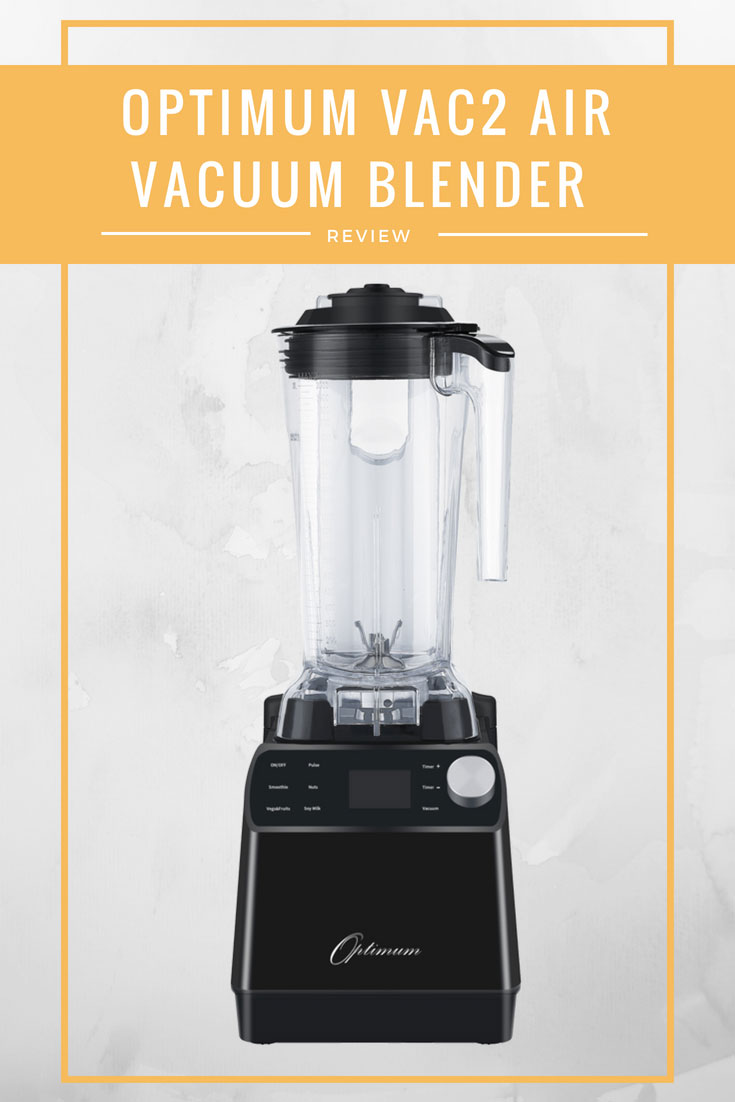 Conclusion
I absolutely love my new Froothie Optimum VAC2 Air Vacuum Blender: it's solidly-built, really simple to use, tackles tough jobs with ease, and is relatively easy to clean.
If you are looking for a good blender and don't want to spend €700+ the Optimum Vac2 Air Vacuum Blender is a great choice.
Pros
It has a very powerful 2338W motor which even crushes ice effortlessly.
It makes extremely smooth smoothies.
Preserves nutrients for longer, no discolouration or separation for hours.
Makes soups in as little as 6 minutes.
You can make additive-free nut butter (except for raw almond butter).
Grind your own flour and nuts.
Knead dough
It comes with an up to 10 years warranty.
Cons
The beeping of the buttons is slightly annoying.
It can't turn almonds into nut butter without roasting them first or adding coconut oil.
Your turn
Have you got a Froothie Optimum VAC2 Air Vacuum Blender or are you considering to buy one? Let me know in the comments.
For more updates follow me on Facebook, Twitter, Instagram, Pinterest or subscribe to my YouTube channel!