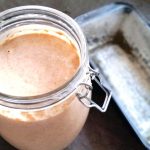 Print
How To Make A Sourdough Rye Starter
What is a sourdough rye starter? Fermentation is an ancient method of capturing wild yeast to leaven baked goods. Learn how to make your own!
Other
Warm room with a constant temperature of 23°-24°C

Non-reactive container to store the starter

glass or plastic

Wooden or plastic spoon

Breathable lid such as a clean towel or coffee filter

Space to ferment with no other cultured foods nearby to avoid cross-contamination
Combine ¾ cup flour and ½ cup of warm water in a glass or plastic container. Make sure the container can hold about 1 litre, to avoid overflow.

Stir it vigorously to incorporate air; cover with a breathable lid.

Feeding every 12 hours will increase the speed at which the organisms will be multiplying; if you feed every 24 hours it will take a bit longer but it might be easier to sustain.

After the first 12 - 24 hours you should start seeing some bubbles, indicating that organisms are present.

Repeat the feeding with ½ cup warm water and ¾ cup flour.

Stir vigorously, cover, and wait again for another 12-24 hours.

Before feeding the starter every 12-24 hours, remove half of the starter and discard it. Feed with ½ cup warm water and ¾ cup flour.

After about 5-7 days the sourdough starter should have enough yeasts and bacteria to be used for baking.
Calories:
266
kcal
|
Carbohydrates:
57
g
|
Protein:
8
g
|
Fat:
1
g
|
Sodium:
7
mg
|
Potassium:
286
mg
|
Fiber:
9
g
|
Calcium:
18
mg
|
Iron:
1.9
mg